Why Choose a PEO?
Professional Employer Organization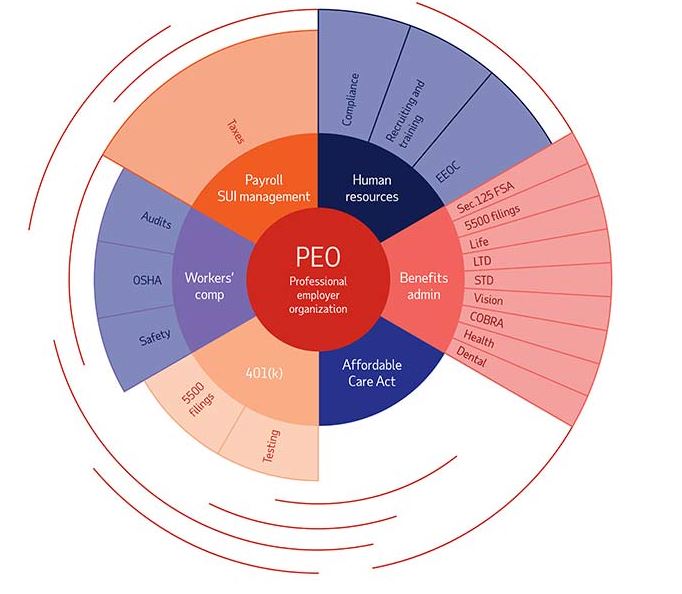 In the world of Human Resources, with a never-ending number of acronyms, it can be crucial to have additional help keeping it all straight.
Professional employer organizations (PEOs) provide a business with human resource services by entering into a joint-employment relationship, by leasing employees to the business. A PEO typically manages tasks such as payroll, benefits administration, and most importantly, ensuring compliance by staying up to date with regulatory changes.
To better help you understand if you should or should not work with a PEO, we will answer the classic five W's - Who, What, When, Where, and Why.
Who can benefit from a PEO partnership?
Any business can gain value from a PEO relationship, regardless of the company size.
A small business with an average of 20 employees can take advantage of cost-effective outsourcing to manage HR duties. Also, a company with 500 or more employees can benefit from the PEOs human resources technologies, expertise, and management to work in conjunction with their existing HR department.
From an accounting firm to a local plumbing company, all companies and manufacturers can benefit from a PEO.
What does the arrangement with a PEO entail?
Traditionally, after you contract with a PEO, they will co-employ your onsite employees. This involves a contractual allocation and sharing of the employee-related liabilities and responsibilities. According to NAPEO, the PEO typically remits wages and withholdings of the worksite employees and reports, collects, and deposits employment taxes with local, state, and federal authorities. The PEO also issues the Form W-2 for the compensation paid by it under its EIN.
The Society for Human Resource Management explains that a PEO can relieve HR burdens like benefits and payroll administration, recruiting, hiring, and compliance assistance.
When is the right time to get work with a PEO?
Is your company growing faster than you can keep up with? Are your HR needs becoming overwhelming?
Do you not have enough HR work to warrant hiring a full-time employee?
If you answered yes to even one of these questions, then now is a good time to work with a PEO.
Where can you find a PEO provider?
When searching on Google for a PEO provider, you guessed it, there are over 2.98 million results… talk about overwhelming. We can make this research much easier for you!
Why choose ITCS WebClock as your PEO provider?
ITCS WebClock is your one-stop-shop PEO provider as we offer an integrated solution to provide businesses with HR, payroll, benefits, and risk and compliance services. We serve to sharpen your competitive edge by leveraging our full suite of solutions for your business.
Ready to utilize our expertise and our team of experienced HR professionals as your PEO provider? If so, contact us today.
WebClock sales at sales@webclock.biz
888-549-5550